** AUG A3s Currently Out Of Production **

FN USA Made Barrel, Cold Hammer Forged Chrome Lined!

Steyr Arms Assembling AUG A3 In Bessemer, AL

All A3s Have VLTOR Machined Receivers!

Don't Forget Our Special On Factory Steyr AUG Spare Parts,

AUG Mags, 30s, 42s, Picatinny Grip Rail & AUG A3 Scope 

Pjs1inc@aol.com


PJA Investments Company

D.B.A As Pjs 

FFL/SOT Class 3

Over 29 Years

Buying/Selling/Repairing/Shooting

High End Firearms

Specializing In Steyr AUG Type Rifles

Over 3500 AUG/USRs Sold To Date

Tele: 704 668 7973

As We Have Specialized In Steyr AUGs For Over 23 Years

We Will Continue To Stock Steyr AUG Magazines And All Replacement Parts

For Your New And Old STEYR AUG & USRs At Competitive Prices.

** Large Steyr AUG/USR Parts Order Is In **

Expert Repair Service Is Offered For Your AUGs & USRs 

**  AUG A3 GRIP RAILS & SCOPES IN STOCK NOW  **

** In Stock ** Factory Steyr AUG A3 Scope $B/O

** In Stock ** Factory Steyr AUG A3 Grip Rails $260.00

** In Stock ** Steyr AUG A3 High Rails $B/O

******************************************************************************

A3 Scopes Are Current Steyr Military Issue

** $B/O each **

This page was last updated: October 11, 2016
We Offer 4 Models Of The Steyr AUG A3

3. Steyr AUG A3 Black Or Green OD 16" -- Out Of Stock 

4. Steyr AUG A3 Black 16" NATO -- Out Of Stock

*** Prices Subject To Change ***

Email ~ pjs1inc@aol.com or Call 704-668-7973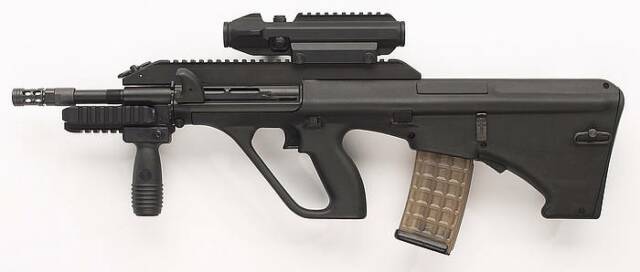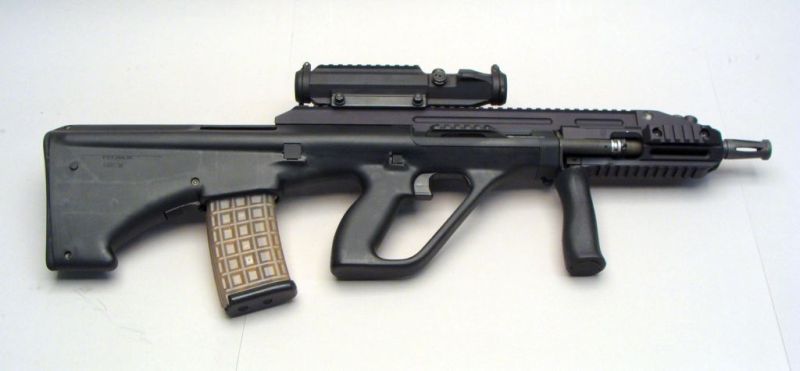 AUG A3 CQC With Optional Steyr A3 Scope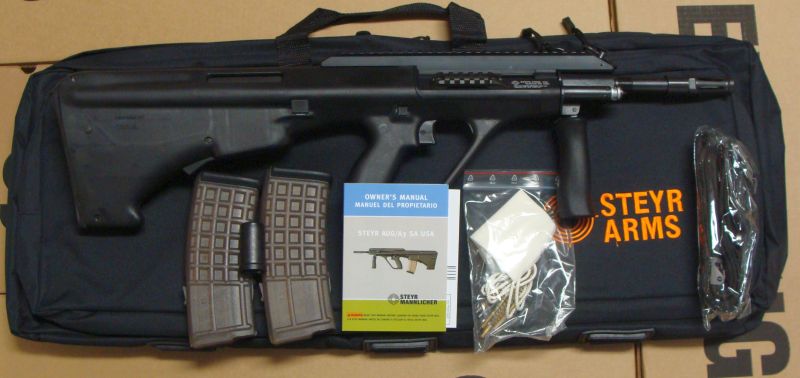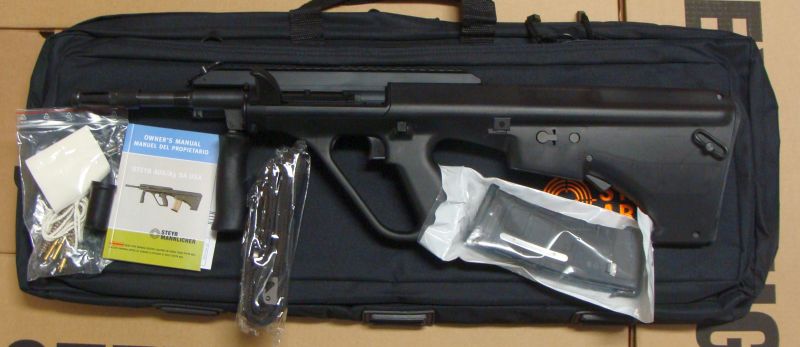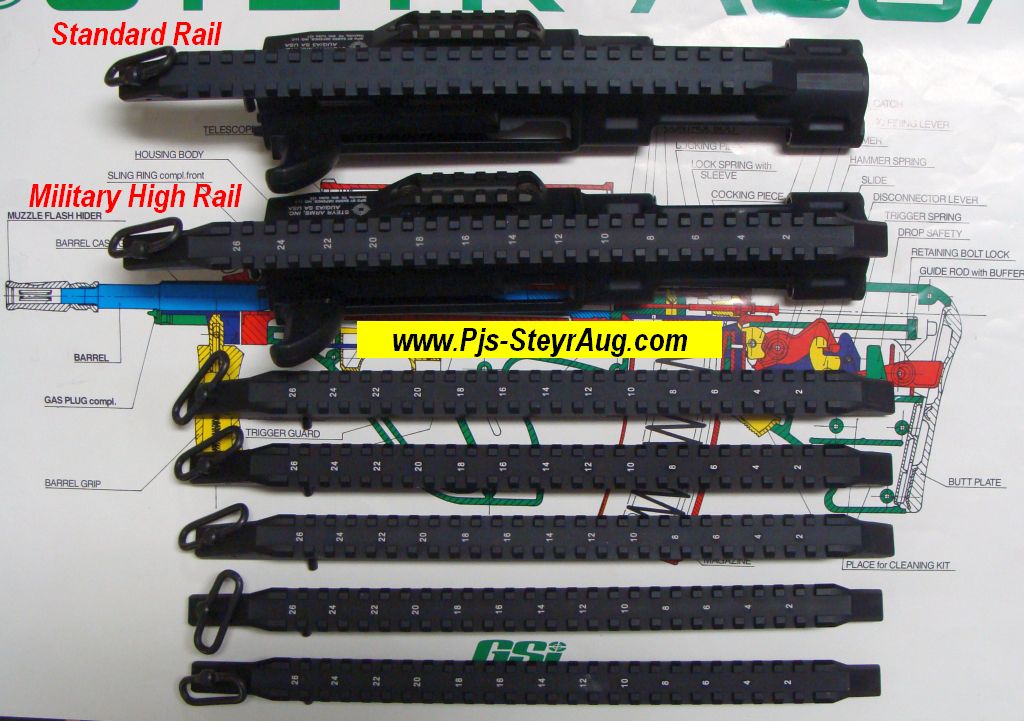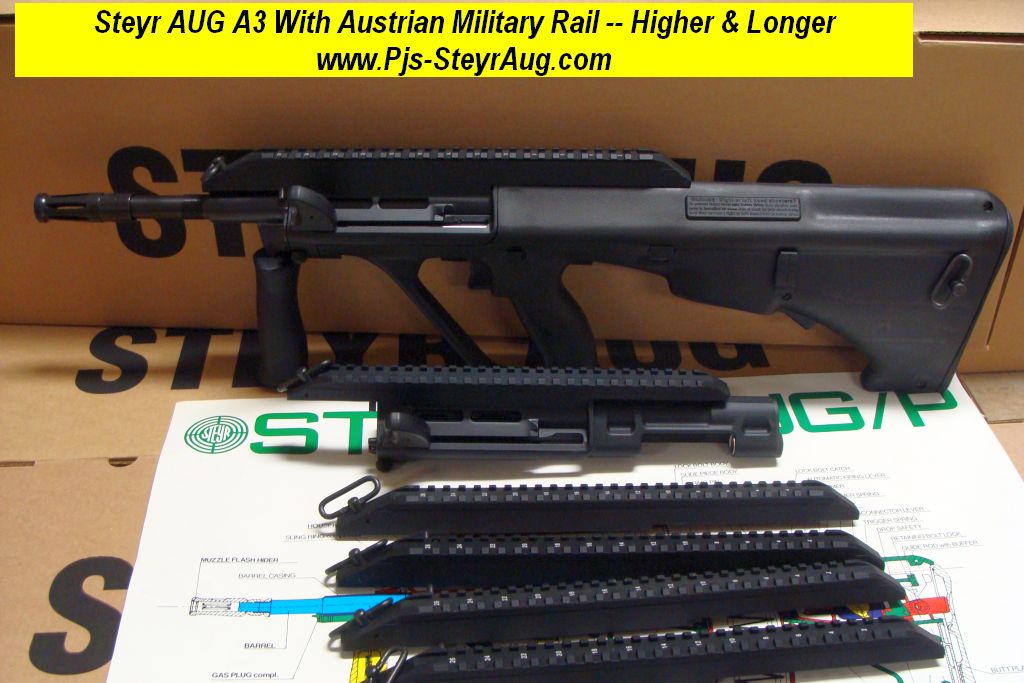 LIMITED TIME SALE

AUSTRIAN Steyr AUG A3 Scopes Only $650 each

AUSTRIAN Steyr AUG Small Spare Parts Kits $160 each